DJ ELDON
Founder, A&R Director, HOUSEMUSIC.COM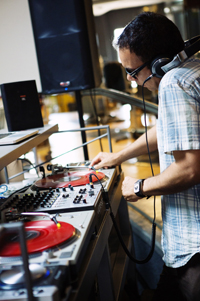 For over fifteen years DJ Eldon has shared the stage with some of the world's greatest DJs, such as Derrick Carter, Francois K, Ron Trent, Dave Angel, Terry Francis, Miles Hollway & Elliot Eastwick, Andrew Weatherall, Harvey, Carl Cox, The Idjut Boys, Tom Middleton, DJ Pierre, Mark Farina, Heather, Iz & Diz, Sneak, Doc Martin, Oscar G, Rocky & Deisel, Phil Asher, Crispin J. Glover, Raoul, Geffroy, Alan Russel, Chris Duckenfield, Kenny Carpenter, Erik Rug, Eddie 'Flashin' Fowlkes, Frankie Knuckles, Chris Simmonds, DJ Deep, Frankie Valentine, Ty Holden, DJ D, David Alvarado, Deep C & Udoh, Kevin Saunderson, Deep Dish, DJ Emily, Funk D`Void, Gene Farris, George T, Josh Wink, Silcone Soul, Slam, DJ Dimitry From Paris, Ms Honey Dijon, DJ Vibe, Frankie Feliciano ,Sasha, Deli G, Kevin McKay, Robert Owens, Gemini, Digs & Woosh, Simon DK, R Nelson Rosado, The Stickmen, Lance Nuance, Alexi Delano, Ashley Beedle, Pete Heller, David Morales, Fred Everything, Dino & Terry, Kerri Chandler, Kevin Yost, JT Donaldson, Steve 'Silk' Hurley, Maurice Fulton, Tedd Patterson, Nick Holder, Angel Moraes, Jon Marsh, John Aquaviva, Marshall Jefferson, Ian Pooley, Stacey Pullen, Alton Miller, Alex Neri, and Derrick May.
Eldon started his DJ career as an on-air radio personality for WWRL-AM / WBLS-FM – New York at the age of eighteen. With a finance degree in business administration, he started a number of small cafes in his home town of Albuquerque NM, and has never given up his love for artistic expression though music. His nights including Groove Lounge in Albuquerque, and World in Santa Fe, gained him international attention in the music industry and landed him a coveted spot as a dance chart reporter for Billboard Magazine. He was responsible for Martini Thursdays at The Martini Grille in Albuquerque, and the sound system design and initial musical direction at Santa Fe's new hot spot, Swig. Under the name "Architects Of Rhythm", he played with Justin Roberts at various events and clubs.
He currently plays various nights at Albuquerque's and Santa Fe's underground dance clubs. As a producer of club events and raves, he has brought over fifty internationally known djs to the state of New Mexico, including Masters at Work, Mark Farina, Frankie Knuckles, Derrick Carter, DJ Dan, Doc Martin, Jeno, Garth, and Marques Wyatt.
DJ Eldon has traveled to all parts of the globe entertaining audiences with his unique form of house music.
---
Interviewed by CHRIS O'BRIEN
"Having started as a radio personality in black radio at the age of fifteen, DJ Eldon soon became music director and went on to work with WWRL in New York while studying finance in college. After a stay in the corporate world, handling DJs for Marriott Hotels and starting two espresso bars in Albuquerque New Mexico, Eldon began focusing on his love of deep house music. In addition to playing events in the U.S. with the likes of Little Louie Vega, Kevin Saunderson, Victor Simonelli, Roy Davis Jr. and Tony Humphries, DJ Eldon has played clubs and events in Holland, England, Germany, Finland, Mexico and Egypt. He currently spins at Club 211 in Albuquerque, New Mexico. He is the Founder and A&R Director of WWW.HOUSEMUSIC.COM . I would like to welcome Dj Eldon of Architects of Rhythm and Housemusic.com in Albuquerque, New Mexico to the online forum of Selekta.com. Dj Eldon welcome…"
Selekta (Chris O'Brien) – It seems that Housemusic.com and your name seem to be getting a lot of attention lately. How does it feel as the Founder of Housemusic.com, to be able to keep the public informed on the latest in House Music trends and the direction that House Music is going these days?
Eldon – It's a great feeling, it's also a bit difficult because house music is just a term, and it's means so many different things to so many different people. I try to focus on the roots …Chicago, New York and the evolution of what true house music has become, Body and Soul, as in the club and the sound. I also try to stay away from just "electronic dance music"- commercial bullshit for the masses. Not to say all commercial music is bad, just most of it.
Selekta – Where do you see Housemusic.com in the years to come?
Eldon – Well, I hope it becomes a community of true househeads sharing their love of the music. Labels and producers putting out their latest tracks. DJ's checking their e-mails at the site and hearing the new tracks for the week. Links to the whole community; DJ webpages with mixes and booking info. Basically, a starting point for anyone interested in house and it's culture. But it's not that easy, without the finances and manpower, and I don't want it to become a commercial free-for-all just trying to make money.
Selekta – How did your introduction to House Music happen? Who or What was your Inspiration?
Eldon – Early 90's New York, Larry Levan, Lil Louie, Tony Humpries, Francois K, Danny Tenaglia, Frankie Kuckles, Paradise Garage, World, Better Days, and Sound Factory. All the guys that weren't afraid to takes chances. They can make 180 degrees turns at peek times and not look back.
Selekta – You have spun all over the World. What Places and Venues stand out in your mind?
Eldon – It's not about towns or rooms for me but about the feeling. Sometimes it happens and sometimes it doesn't, but Amsterdam is like a second home to me. I love the feeling there. The old Roxy in Amsterdam is about as good as it gets. San Francisco is always nice, they always seem to listen there. And Dallas can have that late night, dark feel I like to play to.
Selekta – Back to Housemusic.com; It seems that all the DJ's who are anybody nowadays, are producing and releasing tracks. Do you see yourself Starting your own label? Or making you own tracks in the future?
Eldon – I've worked on a few. Some whites labels you may have heard, but we're not talking about those now. Jordan Fields in Chicago has some tracks for his label and we have a few more in the bag, that will hopefully see the light of day soon.
Selekta – Any plans to spin out here on the Northern West Coast? I saw you spin at Sno-Drift in San Francisco with Sean Ferguson of Om Records. You guys were brilliant. I don't know where you find those records! Any plans to come back out and spin again? Maybe Sacramento? ELDON: As I say, it's always dope to play in the San Francisco area, I really like your scene and the players in that market….. Ra-soul, Migs , Jay-J, Mark Farina , Joshua , Jeno, Garth, Sean, and the list goes on and on. It's always a pleasure to play with guys like that.
Selekta – Now I know your a big supporter of Naked Music. Any other labels you'd like us to know to keep our eye on? Or Producers?
Eldon – Tweekin' and Joshua, Classic with Freaks and Derrick Carter. Oh there's some inspiration for you….Derrick is DOPE! He's house today,… and tomorrow they'll all talk. Fred Everything , Nick Holder, Peace Division, Drop Music, and Lance and JT . Oh and Louie(MAW) , and Kerri Chandler and Ron Trent and Joe Claussel and Shazz and so many more deep motherfuckers Moodyman, Hurbert, Wamdue, Charles Webster…
Selekta – As you know I lived in Albuquerque. From '92 – '96. I watched the scene there grow from a drum 'n' bass hardcore scene, to a more mature, deeper scene. You treated the crowd with a respect that I had not seen at that time. I mean parties like the Groove Lounge at 211 Central and Kingsize at the Sunshine Theatre were probably Albuquerque's first introduction into this beautiful thing called House. I think I speak for the majority of the people of Albuquerque when I say thank you for some of the best times of our lives musically. Whats going on in Albuquerque? Are you spinning anywhere regularly. How do people find out what's going on with you and where they can catch you spin. Or order some of your latest mix compilations?
Eldon – I just brought out Farina again, and Doc Martin will come out soon too. I'm working on Joe Claussel and Kenny Hawkes to come out again. We do a weekly called Fly in Albuquerque at a space called 211. The record store, The Loft here in Albuquerque always has the info on what's up with the stuff we're doing. They also carry the mixed cd's I do from time to time.
Selekta – Anything else you would like to comment on?
Eldon – Not really just to thank Selekta.com and you for taking an interest in myself and Housemusic.com.
Selekta – Eldon I would like to thank you for your time.